"Serviettentechnik" was a big hit a couple of years ago. I gave it a go then, and I still have some items that need covering. And I certainly have some paper napkins that need attaching. There's a connection from the large napkin presented in the front to
Torill's
blog. I found some handkerchiefs with the same garden view and sent them to her (she was my secret friend of round 2.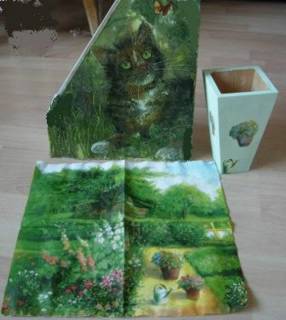 Lautasliinatekniikka oli kova sana muutama vuosi sitten. Sitä tuli silloin kokeiltua, ja vieläkin kämpässä on muutamia esineitä, jotka olen aatellut päällystää. Kuinka ollakaan, löytyy myös sellaisia lautasliinoja, joita ei ole koskaan tarkoitus kattaa pöytään; ne on tarkoitettu vain koristeluun. Etualalla näkyvästä lautasliinasta on yhteys
Torillin
blogiin. Löysin samankuvioisia nenäliinoja ja lähetin ne hänelle (Torill oli salainen pohjoismainen ystäväni kakkoskierroksella.)
A wooden storage box. Which links us to another red cat.
Puinen lehtikotelo. Jonka kautta päästään tutustumaan seuraavaan punaiseen kollikissaan.
Can you see an arrow in his stomach? And he's got a
Doppelgänger!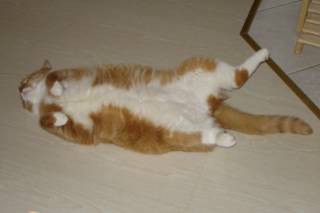 Näettekö nuolen Viirun massussa? Huomasin muuten, että sillä on
kaksoisolento!