Her name was Lola
she was a showgirl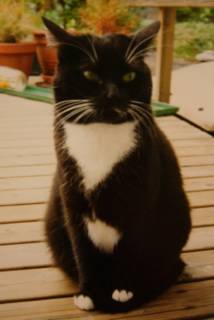 Lola was my ex-neighbour's cat who would come and visit me from time to time. But we had certain rules for the visits.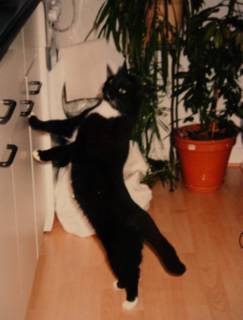 There would be NO jumping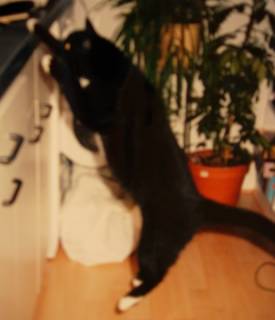 and certainly no climbing.
But the most important rule of all was that she should stay out of my bed. Which - unbelieveable enough - she did. Here's Lola taking a nap on a sunflower pillow. just look at her pretty paws. (And to all of those who are concerned: yes, she is just sleeping, she is not dead.)
Lola's owner moved out in 1998, and I guess that there's a slim chance that Lola is still living somewhere. She was the most stubborn cat I had ever seen.. or stubborn isn't quite the word. Lola was tough. She had to be, because her owner led a very irregular life and when she left for work, she would toss the cat out on the street or even on the roof of her flat where the cat had no shelter and couldn't get anywhere from there. Or that's what the owner thought. Lola would jump to the other side of the roof and call for me. I took a ladder and some pillows, lift the pillows as high up as I could, and then Lola would jump onto them and stay with me for a while.
She wasn't a young cat when we first met, and she certainly had developed a mind of her own. And that temper! She wasn't too keen to show any affection, but when she did, you certainly understood what she wanted.
Lap. Now! - Food! Now! - And this chair is mine.
. I have a large roof terrace and Lola offered a lot of help there with the plants. Sometimes I didn't want her to go in by herself, so I told her not to. She would sneak to the door and when she thought I didn't pay attention, in she went, fully knowing that she shouldn't. There were several occasions when I threw a full bucket of water on her (after making very clear what she shouldn't do); she didn't mind. I held her by the skin of her neck, and she would still try to go inside as soon as I loosened my grip. I like cats, but I also think that they should obey at least certain rules. So believe you me, the fact that she is up on the bookshelves didn't go unpunished. Yet, up she went again. One tough cookie, that Lola girl.