This was supposed to be a good opportunity to keep you guessing where I spent the past few days - until I realised that the name of the town is printed on the t-shirt and I was too busy/lazy to edit the picture. Well, we had 5 days off and decided to visit Normandy in France. It's about 600 kilometres from Brussels which is a bit too much of driving for a normal weekend but manageable in four days. We were four persons, each with some fixed ideas what to see and what to do. Mine was to see the Bayeux Tapestry, an embroidery which is more than 900 years old, describing history in quite an unique way. Of course, the area is also known for the massive WWII operations and battles, grazing dairy cows, the Viking history, seafood and the umbrellas of Cherbourg. Well, we saw a bit of everything during our trip there.
Oh, and you must try
this!

Stick with me baby, we'll go places...
The tapestry in 1/7 of its original size. Which means 10 metres of fascinating events always available in my book shelf.
Bayeux in Normandy.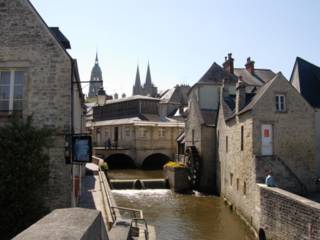 where the reference to the Bayeux Tapestry is omnipresent.
Just as are references to the D-Day... but frankly - would you buy this to a child? It's a colouring book with soldiers, tanks and guns. Gee. Thanks, ma. This will keep me occupied for a while.