I've been rather busy with some new projects, but today I came to realise that I needed a new pair of scissors. Went to a local Sunday market - unfortunately I'm such a coward that I don't dare take photos there. First of all, the merchants usually don't appreciate being photographed (there was a minor incident years ago when a friend of mine tried to take photos of a stall where they sold meat). Second of all, that's one the places in Brussels where I don't want to use a digital camera or anything else too expensive. Again, years ago I caught someone red-handed, trying to find something worth stealing in my backbag. So, you just have to take my word for it: you can buy just about anything on this market: meat, cheese, fruit, eggs, plants, clothes, bags, shoes... but no yarn. Anyway, I got a pair of sharp scissors for 1 euro, and enjoyed the atmosphere for free. On my way home I made a small detour and walked down the memory lane.
Olen tässä touhuillut kotosalla kaikenlaista, mutta tänään totesin, että tarvitsisin uudet sakset. Päätin siis käydä paikallisilla sunnuntaimarkkinoilla tai oikeastaan persialaisella torilla. Valitettavasti vaan olen niin pelkuri, etten uskalla ottaa siellä kuvia, tai kyse on myös siitä, että se on yksi niistä paikoista Brysselissä, missä ei halua esitellä mitään arvoesineitä kuten digikameraa. Niinpä saatte luvan vain uskoa mua, kun sanon, että siellä myydään melkein mitä tahansa: lihaa, juustoja, hedelmiä, kananmunia, kasveja, vaatteita, laukkuja, kenkiä... mutta jostain syystä ei lankaa. Tein siis hurjan sijoituksen ja ostin terävät sakset yhdellä eurolla; samalla käpyttelin varsinaista muistojen polkua pitkin - asuin aikoinaan aika lähellä sitä toria.
This is where I used to live when I first came to Brussels: high up there in a tiny penthouse. Only the top windows were mine. On my way to work I passed Manneken Pis every day, it was only about 200 metres away.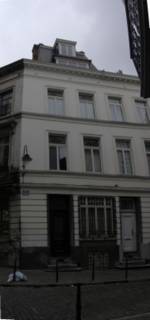 Tässä talossa oli ensimmäinen kotini Brysselissä. Asuin ihan tuolla ylhäällä pikkuruisessa kattohuoneistossa. Vain nuo ylimmät ikkunat kuului mun asuntoon. Ja päivittäisellä työmatkalla ohitin Manneken Pisin, sinne oli matkaa vain parisataa metriä.
Is nothing sacred any more? I hope you can see the details in order to figure out who he is supposed to look like.
Eikö mikään enää ole pyhää? Toivottavasti saatte selvää yksityiskohdista, joista selviää, keneksi Manneken oli puettu.
Hihi. This only shows that you should always, always carry your camera with you. This was attached to a car.
Ja tässä taas todiste siitä, että aina pitäisi pitää kameraa mukanaan.
So, I mentioned earlier that I collect sunflower stuff. I've bought the teapot several years ago in Finland, and today I found the small dish which can be used for used teabags. Just had to buy it although this flat is bursting at its seams.
Mainitsin jossain aiemmin, että kerään auringonkukkakamaa. Tämä pikkulautanen oli ihan pakko ostaa. Teekannu on hankittu vuosia sitten Suomesta, ja kun lautanen sopi siihen kuin nyrkki silmään, niin pakkohan se oli ostaa. Vaikka kämppä pullistelee kaikkea ryönää jo ennestään.