Tuli idea ja iski mut katuun. Vähempikin olisi riittänyt. Neulomisen kanssa tällä ei ole niin sitten mitään tekemistä, mutta olisi ollut todella hyvä konsti päästä eroon kaappeihin kertyneistä langoista. Samanlaista vaatetta ei varmasti olisi tullut vastaan. Alku meni hyvin, mutta sitten tuli yllättävä pröbleemä.
Got a smashing idea. In fact, it smashed me on its way. It has nothing to do with knitting, it's just that it would have been an excellent way to get rid of extra yarn, and simultaneously the technique would have guaranteed a one-of-a-kind garment. In the beginning everything went well but then I ran into an unexpected problem.
Ostin ison styroxlevyn (kevelevylevyn?), levitin sen päälle vanhan puseron kaavaksi ja sitten rajasin sen ulkoreunat nauloilla. Naulojen väliin pujottelin pystysuuntaiset loimilangat.
I bought a large piece of polystyrene, spread an old sweater on the top of it to use as a pattern and outlined it with nails. Then I took some yarn and created some sort of loom between the nails.
Tää on vielä pujotteluvaihetta...
Testing how the yarn would settle there...
..ja sitten tiivistetään.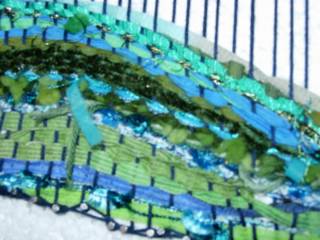 ...after which I'd take a comb and push them closer to each other.
Ja niin hauskaa touhua kuin tämä olikin, nuo loimilangat onnistui aiheuttamaan mulle migreenin. Kahdesti. Ilmeisesti värikontrasti on liian suuri, tai sitten silmät ei vaan tykkää väpättävistä langoista, joiden väliin pitää tähtäillä neulalla. Voihan kökkö. En millään haluais antaa periksi, mutta kaksi iltaa meni jo yökkiessä ja tabuja napsiessa.
As much fun as this was, the dark vertical yarns gave me a migraine. Twice. Either the colour contrast was too much for my eyes, or maybe it was because the black yarn was wobbling while I was trying to weave the blues and greens into it. Too bad. I'd hate to give up but I think two nights of gagging and pill-popping was enough.