My feet had started to itch again... no, not because of athlete's foot but god forbid me staying at home for the weekend. Well, I could have stayed, but since I had bought the tickets, there was no point. There is a rare display of some 120 artefacts discovered in pharaoh Tutankhamon's (well, the spelling varies a lot) tomb as well as some other temples and tombs which I wanted to see. Despite the chilly weather and risk of being captured by the snow, we took two cars and drove to Bonn to spend the weekend there. On the agenda we had - once again - some shopping, some cultural visits, hopefully some good food and I had even thrown my skates into the car boot, hoping to have some time to visit an outdoor skating rink which a skating star of my youth would attend. Does Norbert Schramm ring a bell?
This is where we went
egyptologyblog
more of the show
One of the few photos I took in Bonn.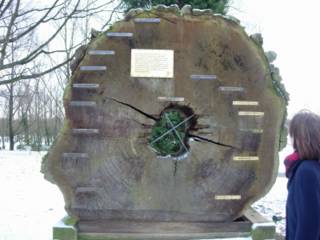 And there would have been at least one
yarn shop
...but I guess I'm getting old or something, I didn't visit it. If you have been there, please leave a comment.
After returning home, I rummaged the spare room. I was sure there was an Egypt-inspired knitting pattern somewhere. Yep.
Does anyone remember this?
...im aktuellen Ägypten-Look it says. Wonder when this look was hot.