Let's start by saying that I wasn't too impressed with Santa's work last Christmas. Which gave me an excuse to go crazy in an internet auction. Which, in turn, seemed to have a Santa working there, because when the parcel arrived, there was something extra thrown in. Hihi. Thank you! Let me read these first and I think I'll be back.
So, what did I get:
Books, part one. Margaret Stove's "Creating original hand-knitted lace". A great book where some of the patterns imitate nature - for instance, there's a scarf which was inspired by sea-shells and even kelp. Another pattern is based on the Rata blossom, a native plant of New Zealand. This approach is something I love and admire - someone is taking a look at a flower and transforms it into a piece of art, knitting the needed parts and finally hand-dyeing and painting it in delicate colours so it looks just life-like.
On the right Knitting in the Bohus Tradition. This reminds me of the patterns my mother was knitting when I was little.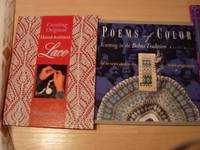 Then a thing booklet "The tongue River Farm Sock Collection". Now here's a challenge to Regia yarn manufacturer: please make a yarn which, when knitted, turns automatically into socks with these patterns. An interesting heel technique, by the way. Needs investigating. --Old World Treasures. Just look at the cover! Beautiful lace doilies. Wonder when I've got some time to attack these patterns.
and finally, More Sweaters. Vibrant colours, to say the least. Love it, too.
And I know you're waiting for photos of knitting, but I'm still tied up with all the untangling that's having top priority right now. I really need to sort out the stash, and the time I've reserved for it daily just isn't enough. I timed myself the other day, and 30 minutes was barely enough to get four balls out of the yarn jungle. Just to show you how horrible the mess is, here's a picture of ONE bag of messed up yarn, taken on Sunday morning, I think.
Didn't do much else, just kept searching for yarn ends (and if I didn't find any, scissors were a wonderful little helper. By Monday it looked like this. Yay!