Before I forget, here's the saga of some felted blue slippers. The originals were just huge. I made them with size 12 double pointed needles (see the left corner) which made my mother ask: "What are you doing, are you knitting with Christmas candles?" The initiative for these slippers came from my mother, but they're meant for my father for outdoor use. Does that sound strange? My elderly father fell and broke his pelvis some time ago and now that he is sitting in a wheel chair, his feet are freezing despite wearing shoes. These slippers should be worn on the top of the shoes, so they should be "slippers" in the true meaning of the word: easy to slip on.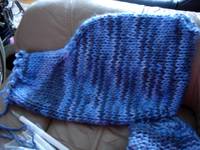 Ennen kuin pääsee unohtumaan, tässä vielä juttua jouluntienoolta, sinisten huopatöppösten tarina. Alkuperäiset olivat tietysti aivan valtavat. Tein ne numero 12:n sukkapuikoilla (niistä näkyy vähän kuvan vasemmassa alareunassa). Äiti sitten tietysti meni kysymään, mitä mä oikein puuhailen, neulonko mä joulukynttilöillä. Äiskä oli myös toimeenpaneva voima näissä tossuissa, vaikka ne on tarkoitettu isälle ja ulkokäyttöön. Jos kuulostaa oudolta, niin selityksenä sen verran, että vanha isäni kaatui ja sai lantionmurtuman jokin aika sitten ja nyt sitten kun joudutaan käyttämään pyörätuolia, niin jalat tahtoo ulkoillessa palella vaikka on tietysti kengätkin jalassa. Tarvittiin siis lämpöiset tossukat pidettäväksi vaikka kenkien päällä, eli ne pitäis saada helposti jalkaan ja jalasta pois.
They were absolutely huge! I had 200 grams of thick woolly (but not 100% wool) yarn reserved for this purpose and there wasn't much left when I'd finished. Made them using this novelty invention of mine: start at the heel, increase stitches for the sole, knit in round and just before finishing, turn the whole thing inside out, tuck a plastic bag inside and finish off. Then put them into your washing machine and hope for the best. Fish out the hollow round thingies and once they're dry, take a sharp knife and make a hole just big enough for your foot to slip in.
Alkuvaiheessahan ne oli tietysti valtavat. Mulla oli 200 grammaa paksua villavoittoista (mutta ei 100-prosenttista) lankaa varattuna tähän tarkoitukseen eikä paljonkaan jäänyt yli. Pääsin taas toteuttamaan tätä mun itse kehittelemää sämpylämallia. Luontisilmukat tulee aivan jalan taakse kantapäästä ylös nilkkaan, sitten neulotaan suljettuna neuleena ja lisätään vaan tossujen pohjaa varten silmukoita kantapään vasemmassa ja oikeassa reunassa. Vähän ennen kuin koko mitta on saavutettu, käännän työn nurin ja tungen sisälle pakastepussin (joulun aikaan kokeilin myös kinkkupussia, joka olikin periaatteessa ryhdikkäämpi, mutta se pirulainen meni pesun aikana hassuiksi suikaleiksi. Huopumiseen se ei vaikuttanut, tai siis että toivottu eristysvaikutus kyllä saavutettiin. Sitten vaan päätellään, tungetaan tossukat pesukoneeseen ja toivotaan parasta. Valmiit tossut on todellakin semmoiset hassut pyöreät ontot vempulat, lopuksi pitää vaan uskaltaa tarttua veitseen ja leikata jaloille sopivat sisäänmenoaukot. Reuna on huopunut niin hyvin, ettei se lähde purkaantumaan eli rohkeasti vaan!
I made two pairs of them. I prefer turning them inside out because the colours look nicer then.
Ja kun nyt kerran rupesin, niin tein sit kerralla kaksi paria. Tykkään kääntää ne nurin ihan vaan värien takia.
They're thick and warm and easy to slip on.
Tulipahan paksut ja lämpöiset ja helpot sujauttaa jalkaan.
And oh boy, did they shrink? Just for fun, I drew the original dimensions on a newspaper, shown on the red line (which I had to accentuate afterwards). You can see the size of the sole before felting as well as the side profile of the slippers.
Mutta kylläpähän kutistuvat aina huovutusvaiheessa! Piirtelin huvikseni ääriviivat sanomalehteen ennen koneeseen laittamista, ja nyt sitten kuvanlaittovaiheessa vahvistin ääriviivat paremmin näkyviin. Kuvasta näkyy tossujen pohjan alkuperäinen koko ja sitten vielä sivuprofiili.