I've been hunting for these kind of colours for months, and just before Christmas I got the last balls of Gedifra's India. The collection is now complete; I *could* start knitting.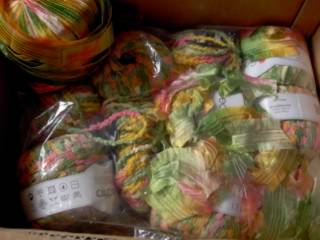 Same story here. Bought a pair of shoes in these colours, will knit a matching sweater (hopefully). Found the last balls only this Saturday.
500 grams of Lana Grossa's Pep fighting its way out of a box. You stay in there!
Phildar's Copacabana and GGH's Sombrero. Those ocean-shades were supposed to work as a back-up for the other blues and greens meant for the "Little Mermaid" sweater... but it seems that they have a life of their own. And the subtle shades of pinks and greens of Sombrero are reflected in a handbag which I'll show you later.
A project inspired by South America. I was looking for pictures of monsters and strange animals, and as soon as I found the book in the background, I knew I'd come home. The ribbon in the middle has travelled with me for 20-odd years. If there's any yarn left after I've finished this monster-sweater, it might be used for knitting a bag, where this ribbon will also play a part. As might the metal plate as well. Found it in a crafts fair in Belgium last September.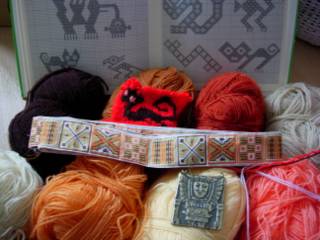 If I ever want to dress up as a giant flamingo, this is the stuff to wear.
Have a plan for these as well. Just need to finish a couple of others first and use the eventual yellow leftovers of those.
Have yarn. Will knit.
Here's today's hot tip: store your yarns in plastic bags in matching shades. This makes it easier to search for a particular yarn.
Makes me think of green apples. What about you?
I scream: ice cream.
An incredible detail: these dots are white on one side, coloured on the other.
Peach & Raspberry, isnt't it?
I think I had an idea for these yarns. Now I'm not sure any more.
Remember, I'm the gal who doesn't like felting. So, what are all these woolly thingies doing in my flat?
Sockety socks.
Ebay, a curse and a saviour.