What does B&B stand for? Bed and breakfast, yes -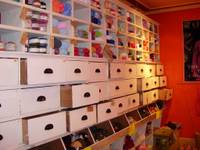 but also Beads and Buttons, a shop that sells...well...
beads and buttons but also yarn. It's quite a melting pot: Rowan from Britain, Phildar from France, Lang yarns from Switzerland, and previously unknown (at least to me) Markoma yarns from Belgium.
Sit down and relax for a while
Can I have a look at the 68th button from the left on the uppermost row, please?
No doubt, I'd look just as intelligent wearing these.
Homesick, homesick...